Another FIRST for ICELED

the worlds ONLY full-colour scanner!
The scanner is a 20 inch long tube containing a total of 72 separate red, green and blue LED elements integrated together to provide a directly viewable scan array.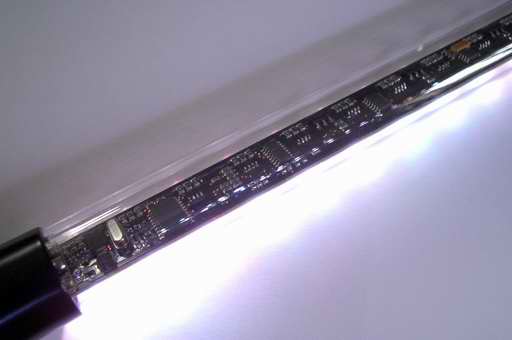 Based on the same principles as all other ICELED light sources, using no more than a 12 Volt DC supply, this scanner can be left to scan through the rainbow on its own, or can be frozen to scan on any particular colour.
Better still, Connecting its data wire to an ICELED controller gives control over the scan colour and pattern. Linking the scanner to UFO for example will synchronise the two system so that each UFO pattern produces a unique scan in complimentary colours. This extends to sound reactivity, so the scanner patterns also respond directly to music!
A new version of the ZAP controller (called ZAP+) is also available now, adding a scanner pattern selection capability to the basic colour selection facilities of the previous version.
The scanner manual is available as a PDF file:
Click here
As a price guide, in the UK, the ICELED scanner is available now for £87.99
Skipperjack has made an excellent movie of the scanner in action along with UFO:
Click here